Norair 800 - Air Scrubber/Negative Air Machine/Smoke Eater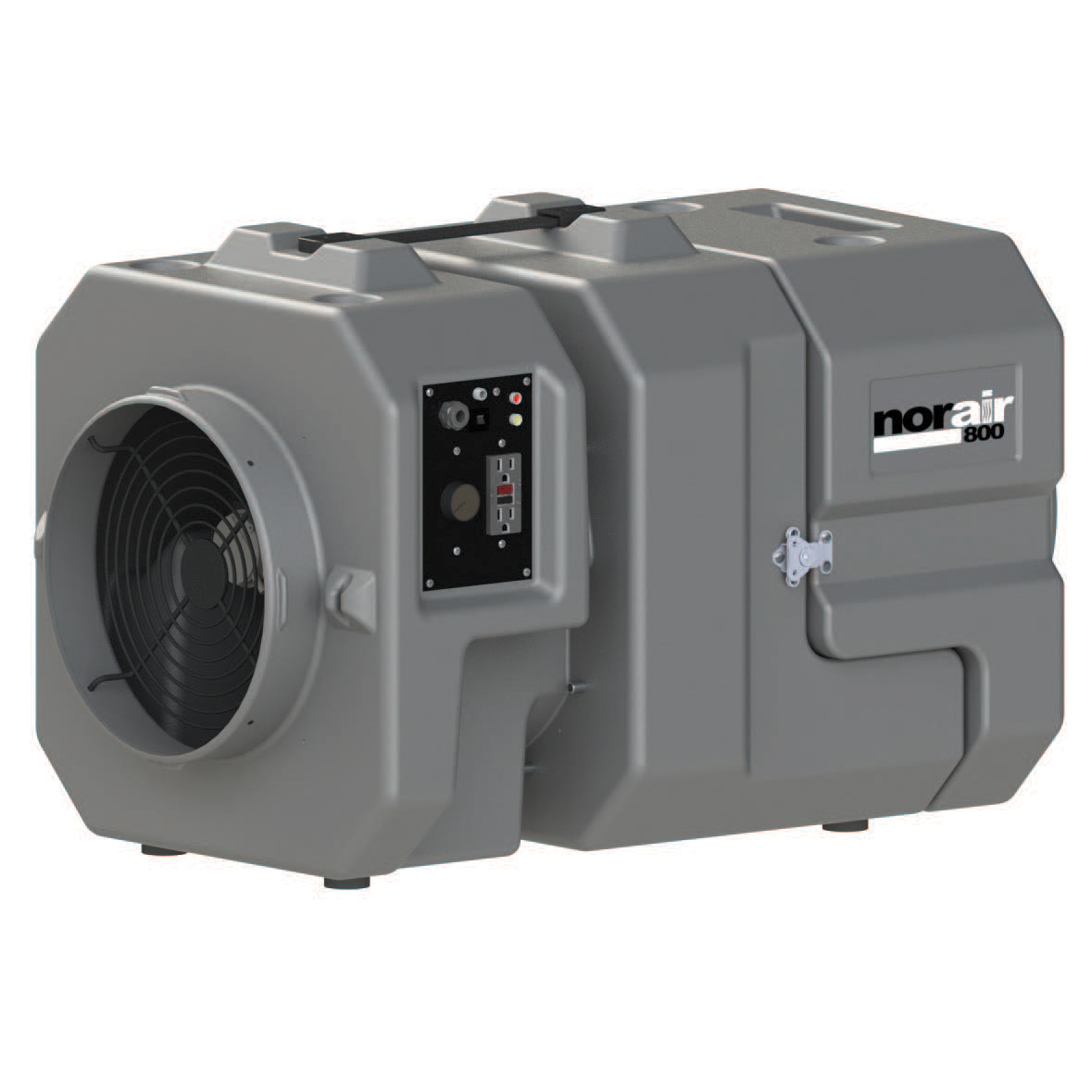 The most versatile portable air scrubber in the industry. 

NorAir 800 sets a new performance standard across all scrubber and negative air applications. One machine, multiple solutions.
Packed Full of Heavy Duty Features.
NorAir 800 can be configured in the field, without tools, to provide high air flow multi stage HEPA filtration, combination HEPA/activated carbon for simultaneous particulate and V.O.C. removal. NorAir 800 can also feature an industry leading dedicated carbon canister for heavy V.O.C. challenges holding 22 lbs (10kgs) of activated carbon that can be specially selected to best handle your specific application. Our Perfect Seal® 360 cylindrical HEPA filter provides up to 25% more surface area than competitor filters, resulting in longer filter life and fewer filter changes. NorAir 800 – One machine, toolless access, multiple solutions.
Interlocking Cabinet Profile: Provides stability when stacking during transport or when daisy-chaining multiple units
Contoured Flex Handle: Ample clearance for comfort and mobility, flexes downward for secure stacking
Air Flow Indicator: Indicates reduced airflow, alerting user filter change may be necessary
12"Inlets/Outlets: Accommodates up to 800 cfm
Durable Housing: Rugged UL 94 compliant flame retardant polyethylene housing for tough environments
Quick Release Latches: Toolless filter changes and access for cleaning
Variable Speed Control: Customize the airflow levels you need from 250 to 800 cfm
User-Friendly Control Panel: GFI protected receptacle outlets, allowing daisy chaining up to three units
Completely Access.
The NorAir 800 provides fully toolless access for speedy on-site filter changes and change part maintenance. With quick release latches, NorAir 800 easily provides multi-functionality innovation for diverse applications – particulate, VOC or combination.
Loaded with Flexible Application Options.
The NorAir 800 is lightweight, portable and extremely versatile. It's applications are extensive – spanning industrial, commercial, institutional and a broad range of other use cases.
PerfectSeal® HEPA
Toolless cylindrical PerfectSeal® HEPA filter media for dedicated fine particulate filtration down to 0.3 microns, option to add up to 3 pre-filters for extended service life.
PerfectSeal® HEPA/VOC Combo
Toolless cylindrical Perfect Seal® HEPA & 5lb. inner canister of dedicated activated carbon for air borne chemical and odour absorption, option to add up to 3 pre-filters to extend service life.
Ultra VOC
25 lb. activated carbon canister for extreme air borne chemical and odour absorption, option to add up to 3 pre-filters for extended service life.
The NorAir 800 is powered by a proprietary PerfectSeal technology, ensuring the tightest and most secure seal possible.
NorAir 800's PerfectSeal technology works to ensure that your unit is completely sealed and operating at HEPA level filtration 100% of the time.
NorAir 800 Specs.
Item: 2Y-A-1KPG-00
Weight: 36 lbs (without filters); 42 lbs (with HEPA filter)
Dimensions: 19" W x 20" H x 32" L 9 (482.6 W x 508 H x 812.8 L)
Airflow: 250 to 800 CFM
Variable Speed Control: 3050 RPM max
Power Supply: 115 vac/1 ph./60 Hz
Operating Current: 2.6 amps
Daisy Chain: Up to three units on a 9 amp circuit
Stackable: Up to three units
Inlet/Outlet Connection: 12" dia. collar
Country of Manufacture: Canada
Warranty: 1 year (excluding filters)
Standards: CAN/CSA C22.2 No. 113-15 (10th Ed.), UL 507 (9th Ed.)
Norair 800 Includes:
• 14" Perfect Seal HEPA Cartridge (3rd Stage)
• 13"x13" Pleated Filter (2nd Stage)
• 13"x13" Pre Filter (1st Stage)
VIEW IN OUR STORE